The Scotsman is one of Samurai Jack's most prominent allies, though from time to time they argue about meaningless stuff. He has a gun for a leg and a pronounced Scottish accent. He has helped Jack in the fight against Aku and saved him and other men from Sirens, creatures whose voices could hypnotize men and lure them to their doom. He is a strong fighter, nearly on the same level as Jack, and was the most wanted man on the planet until Jack appeared.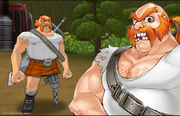 FusionFall
In FusionFall, he can be found in Townsville Park next to the Infected Zone, The Fissure, along with Numbuh One and Grandpa Max. His missions had a lot of focus on defeating the Fusion Scotsman at the Leakey Lake Infected Zone ("Loch Mess") and to give him his blade. He has a Fusion counterpart, but has no Nano version. The player must defeat his Fusion to get a level 12 Demongo Nano.
Trivia
Samurai Jack and The Scotsman are voiced by Phil Lamarr and John Dimaggio (respectively), who both worked together on Futurama as well.
Both The Scotsman and Hoss Delgado have machine guns for limbs.
He is the only NPC with a Scottish accent.
His missions mostly concern Fusion Demongo, who is attempting to take over Leakey Lake with his minions, including the Fusion Scotsman.
Similar to Jack's sword, the Scotsman's sword can cut through nearly any material without effort. Despite its size and weight, the Scotsman can easily wield it and fight at the same speed as Jack with it. The sword is also magical, as it has been inscribed with ancient runes that make it indestructible and increase its destructive power.
Though both he and Dexter have red hair, Dexter has a Russo-Teutonic-sounding accent, rather than a Scottish one.
Gallery
Community content is available under
CC-BY-SA
unless otherwise noted.