Marceline
Vital statistics

Alias

Marcy
Age
100013
Species
Vampire/Human/Demon
Designation
Mission Giver

Other info
Physical description
Gender
Female

FusionFall
Series
Adventure Time
Nano Item
Boot

Voiced by

Olivia Olson
"
Daddy, why did you eat my fries?
"

–Marceline
Marceline is a thousand-year-old vampire who just likes to have some fun, but sometimes can't because of her troubled past. Marceline has lived in many different houses, including Finn and Jake's treehouse, as she from time to time tries to escape from the notice of the Ice King, who nevertheless always finds her again. Marceline's house is currently in a cave.
FusionFall
Marceline first appeared in FusionFall Heroes, but was added to the main game for the "Nightoween" Halloween 2013 event in Peach Creek Commons where a portal has opened to the Nightosphere, where Marceline's father, Hunson Abadeer, sells the player objects from Adventure Time.
Since January of 2014, Marceline can be found in a cave near Van Kleiss in Eternal Vistas near the border to Endsville in The Suburbs.
FusionFall Heroes
In FusionFall Heroes, Normal Marceline is a playable character armed with her family axe, capable of clearing crowds of enemies with its long reach. She has various heroic upgrades:
Bonewing Marceline - Wears bone batwings
Sunscreen Marceline - Wears her wide floppy hat
Sweet Marceline - Wears Princess Bubblegum's crown and carries a lollipop
Queen Marceline - Has the Marceline Transformed monster head and carries Valhallen's Axe
Ice Cold Marceline - Wears the Ice King's Crown and carries an Ice Axe
Vampire Axe Mordecai also carries Marceline's axe, so she must loan it or a copy of it to him from time to time.
Gallery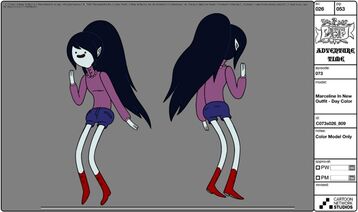 Community content is available under
CC-BY-SA
unless otherwise noted.