Drifty The Driftblade
Vital statistics

Real name

Driftblade
Age
7
Species
Monsuno

Other info
Physical description
Gender
Male

Hair color

Green

Eye color

Green
Relationships
Relatives
Haze(owner)
Mentor
Haze
Affiliation
Heros
Powers and abilities
Powers
Roar

Blade cut

Weaknesses
Hit to the nose

Meat

Equipment
Attacable Missile backpack

Saddle

FusionFall
Series
Monsuno Fanon Monsters
Location
Gravity Falls
Nano Item
Chipped claw

Voiced by

None
Drifty is Haze The Hedgehog's pet Monsuno.
FusionFall
When Drifty was summoned by Haze during a battle in Tech Square against a crowd of Cyberus Zeroes, Haze miscalculated his strength in the throw, and Drifty was sent flying towards a portal to Gravity Falls. There he was taken care of by the workers in the Mystery Shack and was used as entertainment. When Gravity Falls became infected, Drifty ate some of the Fusion Matter, but proved immune to it.
For that reason, he is being used in studies by scientists like Dexter to find how that was possible. Drifty is being used as a kind of a "bottom feeder" around the place, cleaning up as more and more Fusion Matter appears.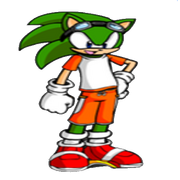 Community content is available under
CC-BY-SA
unless otherwise noted.