Devil's Canyon
Area Level
22
NPCs
N/A
Devil's Canyon is a canyon south of Devil's Bluff. It is the FusionFall equivalent of Hell's Canyon, the Grand Canyon, Devil's Tower, and the Badlands of South Dakota.
Features
Devil's Canyon is a desert environment. There are relatively few signs of life and many dead plants.
Scenery
Camping Grounds
30px
Tents and campfire suggest that there were campers in this area. If you listen closely, you can hear the crackles from the still burning fire.
Native Village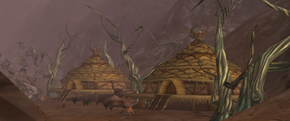 Huts can be found all around Devil's Canyon and Devil's Bluff. This evidence points to what once was a native village.
Old Stairs
Worn down stairs connect the lower part of Devil's Canyon to the higher levels.