In 1957, Metro-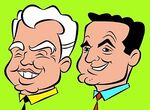 Goldwyn-Mayer closed down its animation division, leaving animation directors William Hanna and Joseph Barbera, the creators of
Tom and Jerry
, unemployed. They therefore decided to form their own animation company, producing relatively inexpensive limited animation cartoons for the new medium of television. The venture proved successful, and Hanna-Barbera Productions came to dominate the field of television animation for nearly forty years, producing such popular series as
The Quick Draw McGraw Show, The Flintstones
,
The Huckleberry Hound Show, Top Cat, The Jetsons, Jonny Quest
,
Space Ghost, Scooby-Doo
,
The Smurfs
, and many others.
However, with the advent of cable, Saturday morning animation blocs were no longer maintained by the main broadcast networks, and Hanna-Barbera's original series were less and less in demand. In 1991, Hanna-Barbera's backlog of series was purchased by Ted Turner for use on his new animation channel: Cartoon Network. In the same decade, Hanna-Barbera began producing original programming for Cartoon Network's What A Cartoon! show, which introduced some of the network's most popular series, such as Dexter's Laboratory, Johnny Bravo, and The Powerpuff Girls.
When Turner Broadcasting merged with Time-Warner, Hanna-Barbera Productions became a subsidiary of Warner Bros.. In 2001, Hanna-Barbera was absorbed fully into Cartoon Network Studios, and, as of 2016, Hanna-Barbera Productions is an in-name-only unit of Warner Bros. Animation, which administers the rights to its catalog and characters. Hanna-Barbera characters continue to appear in new productions animated by Warners.
In FusionFall, Hanna-Barbera's achievements are memorialized in the "Hani-Baba Temple," and on a totem that portrays the classic Hanna-Barbera characters Top Cat, Scooby-Doo, Fred Flintstone, Yogi Bear, George Jetson, and Quick Draw McGraw.
Trending pages
All items (10)
Community content is available under
CC-BY-SA
unless otherwise noted.